Marko 93, French graffiti artist and light painter will be touring India throughout the month of November. and will be in Mumbai on the 18th and 19th! On the occasion of Times Celebrate Bandra, he will create unique works of art, from light painting videos and photos to graffiti!
SCHEDULE
Creation of street art painting
Wed. 18th, 10am – 5pm, St.Joseph's convent wall, near Carter Road (Bandra)
From the streets of Paris to the streets of Mumbai, Marko will create a mural on a wall near Carter Road. Join us to admire his work!
Light Painting Workshop
Thu. 19th, 10am – 1pm, St. Andrews College (Bandra)
Explore light painting with Marko 93. Discover this photographic technique, learn how to paint with light and express your creativity!
Free participation | RSVP at [email protected]
Monulight
Thu. 19th, 7.30pm, Bandra Fort
Be part of a gigantic and luminous collective project, conquer the Monulight challenge ! The Monulight, or "monumental light-painting", aims at creating a work of art symbolizing Mumbai with the trajectory of each participant carrying a light. Marko 93 will head this participatory light-painting at Bandra Fort, and you definitely want to participate. So come in dark clothes with a torch with fully charged batteries, and join the monumental Monulight !
Enter the Monulight experience here !
Free participation | RSVP at [email protected]
Get involved with AFB !
Become a volunteer and experience the Monulight challenge behind the scenes.
More info at [email protected]
About Marko 93
Marko 93 grew up in Saint-Denis, a historical, strongly working class suburb North of Paris. It was here where he laid down his first strokes. In the late 1980s, the Hip Hop movement emerged onto the scene and rapidly laid roots in big cities and suburbs. Marko embraced graffiti as his means of expression. It was the time of city walls, wastelands and railways tracks. Marko 93 painted and bombed there, revealing slices of the suburban life where he lived. Big letters entangled, realistic scenes, caricatures or free-style pieces, he was learning to master all the techniques of the urban art form.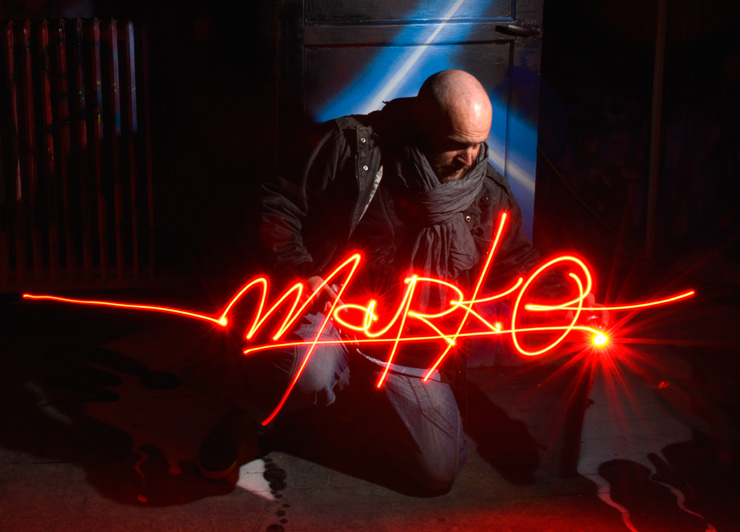 Originally influenced by the American styles, he soon formed his own identity with the discovery of Arabic calligraphy which he took over and reinvented in the early 1990s. With "calligraphism", the "calame" (an Arabic word referring to the reed cut out to write) became the signature bomb which Marko 93 adapted. His gesture, always large and accurate became more vigorous. This abstract style blending calligraphy and an urbanesque flavor with his spontaneity elevated him as a key player on the graffiti scene.
As street art entered into art galleries in the late 1990s, Marko was travelling the world. He was discovering new pictorial and human horizons. He began to paint human bodies. His complex and ethereal calligraphies covered the dancers' bodies in night-clubs from Rio to Hong-Kong.
The early 2000s were a turning point. He was becoming as assertive as his art. Marko started experimenting with state-of-the-art technologies, making his the effects of retinal persistence. He reinvented, enhanced and popularized the light-painting process touched upon by Man Ray and Picasso. He built his first light paintings with gestures, colors and light. He also developed the first "instant-live" – real-time-video-, a unique technique to paint the space live. This allowed him to perform in places as eclectic as the palace of the Arab Emirates princess, a live show in Bombay and the famous World Auto show. Today, Marko93 performs all over the world. He spreads his unique aesthetics and his enlightening sensitivity all over, from in situ performances to collaborations, mural paintings, light-painting videos and workshops – through institutional or private orders.
In 2011, he created a group performance: the "Monulight", a monumental light-painting. He performed on the forecourt of the Saint-Denis basilica. About 150 people holding lamps made up a 450-square -meter crown on the ground : all the kings of France are buried there – but on that day the kings were on the streets!
WE were and still are on the streets!
Visit Marko 93 website  and Facebook page !
About Celebrate Bandra 
Come November, Bandra promises to be the most exciting place to be, in all of Mumbai. Different resident associations have come together for the Seventh time to showcase beautiful Bandra in a 5 day festival called Celebrate Bandra. Scheduled from the 18-22 November, 2015 the activities in this action-packed festival fortnight will comprise music, theatre, film, dance, sport, food, heritage, art and poetry all with a view to bringing people and communities together. The festival has been earlier held in November '03, '05, 07, 09 ,11 & 13. Each edition was a resounding success.
The Celebrate Bandra Festival will emphasize its enormous wealth of culture through a series of major and smaller events. We want to portray the diversity among communities, which reside in this suburb, even as we all come together as citizens. Bandra has a very distinctive character and can serve as a model for communal harmony.
In partnership with Celebrate Bandra & St. Andrews College